The Natural should let Nature take its course.
By Wolfgangsta
Ninjasplace.com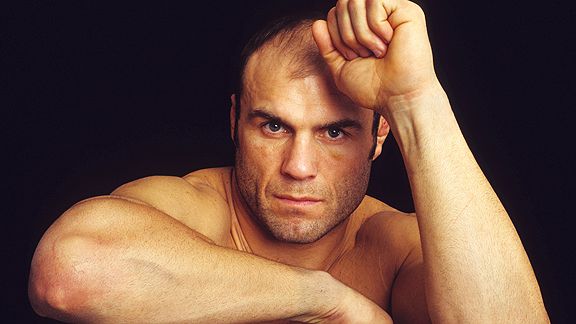 Randy Couture is a rare breed for any combat sport(or any sport at all). In 2007 he became the oldest major HW champion in MMA history at 43, and set another record by defending the title at age 44. In 2010 he set a UFC record that may never be broken by winning a fight at 47 years of age. He is a man who has made
multiple
title runs after being left for dead by pundits who thought he was past his prime. There has never been a limit to Couture's seemingly endless fountain of youth...until now.
It was once a common theme in his interviews to hear him talk about how he doesn't feel like he's slowing down, that he handles the 30 year olds in the gym, that he is getting better every day and feels like the best fighter he's ever been, and that he loves to compete. We're not hearing that anymore. Not entirely anyway, as Couture conceded that at this point, another title run is probably behind him on MMA Live last month ;
Quote :


"I don't think I'm going to make any public announcements because I don't think anybody's going to buy it,
I did that once and came back. I don't want to be like Brett [Favre]. I do feel like I've had my wars, I've had my battles. I've been there, I've done that. I am competing and training and feel better than I ever felt physically but I don't see myself making another run at the title, at heavyweight or light-heavyweight, being honest."


I think at some point, I've got to call enough, enough I've had an amazing year. My last few fights in honesty were more novelty fights. Not to take anything away from my opponents, but that's the truth of the matter. They didn't really matter in the division, they didn't really put me any closer to a title, and I have to make a decision at some point. So I think I would entertain another novelty-type fight. I could still compete but I don't see myself making a run at the title any time soon."

While it's likely impossible to keep the phrase "I can still compete" out of Couture's mouth, this is the first time Couture has conceded his championship days are over. Randy is an intelligent fighter and he has to know his reflexes and durability just haven't been there in his last few fights. If Couture struggled with the speed of Antonio Rodrigo Nogueira and Brandon Vera, it's not hard to see how fights with Cain Velasquez and Maurico Rua might turn out.
With the news that
Couture has signed on to film two action films through the middle of 2011
I think it is unlikely that we will see Couture again. The UFC has no cupcakes left to feed him. Toney was a one-off freak show, and Coleman was also a relic who needs to be looking at new career options himself. These fighters are not representative of the typical UFC fighter. By the time Couture would be able to take another fight, he would have had another year off. We've seen how unkind ring rust can be to prime fighters like Maurico Rua and Quinton Jackson in recent times. The effects of a year off and out of the gym on a 48 year old fighter could be disasterous.
Even a young 48 is still old. While there are a few potentially winnable match ups, I think the risk of a knockout loss and injury is too high to justify a comeback fight next year. No one wants to see Stephan Bonnar record the best win of his career at the expense of Randy's retirement party. No one wants to see Tito Ortiz actually land that awful head kick he throws every fight on the Natural, before donning a shirt that said "I killed Captain America". That is the stuff nightmares are made of.

Of course I say this now, but I like everyone else will probably be in awe after he GnP's Forrest Griffin's face to a pulp at UFC 137.